Tasmanian independent MP Andrew Wilkie has accused Hillsong of breaking financial laws in Australia and around the world, and accused founder Brian Houston of "treating private jets like Uber".
He also accused Houston and his successor, Phil Dooley, of using church funds to fly in private jets, take business class flights and purchase luxury goods.
Wilkie used parliamentary privilege to reveal allegations regarding the church's finances, which he claims were leaked to him by a whistleblower, including that the church earned $80 million more in income in Australia than it reported publicly.
He also claimed the documents were offered to the Australian Tax Office, the Australian Securities and Investment Commission and the Australian Charities and Not-for-profits Commission last year under whistleblower legislation.
"Not one of those agencies acted and that is a failure of regulatory oversight every bit as alarming as Hillsong's criminality," he said, adding he had verified the documents.
The Tasmanian MP said the documents showed Hillsong was "breaking numerous laws in Australia and around the world relating to fraud, money laundering and tax evasion".
He said one document showed in 2021 four Houston family members and their friends enjoyed a three-day luxury retreat at Cancun in Mexico using $150,000 of church money.
"And these documents show former leader Brian Houston treating private jets like Ubers, again all with church money. For example, in one three-month period Brian Houston's trips cost $55,000, $52,000, $30,000, $22,000 and $2000."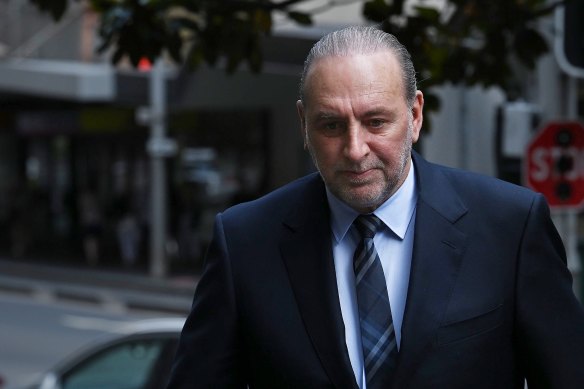 "The new head of Hillsong, Phil Dooley, has told church followers he only flies economy. But these documents show him clocking up $58,000 in business class flights for him and his daughter to Guatemala, $42,000 in business class flights to Mexico, $32,000 in business class flights from Cape Town to Sydney via the US.
Wilkie said that Hillsong followers believed the money they put into the poor box goes to the poor, "but these documents show how that money is actually used to do the kind of shopping that would embarrass a Kardashian".
"For example, $6500 Cartier watch for Bobby Houston, $2500 for Louis Vuitton luggage, a $2500 watch for Phil Dooley, two watches worth $15,000 for Joel and Julia A'Bell, shopping sprees for designer clothes at Saks Fifth Avenue and even $16,000 for custom skateboards."
Wilkie went on to allege that Hillsong money had been improperly used to pay music royalties to Brian Houston's son, to buy the Festival Hall in Melbourne for $15.7 million and that hundreds of thousands of dollars in honorariums were paid to US pastors overseas.
"Sending millions of dollars of Australian charitable donations overseas is illegal in some circumstances," Wilkie said.
Those named in relation to Wilkie's allegations are yet to respond.