Whitty accepts decision-making 'chaotic' in No 10 under Johnson – but claims other countries had similar problems
Q: How efficient was the administrative system around the PM?
Whitty says the civil servants did a good job in very difficult circumstances. The political system was more mixed, he says. It was "quite often chaotic", he says. But he says he thinks it was probably chaotic in other governments.
He says civil servants should not say who their fantasy PM would be. They should operate with the person who is there.
Q: There is clear evidence that the PM had difficulty taking decisions. Did you see that?
Whitty says the way Johnson took decisions was "unique to him".
Q: That's a euphemism. What do you mean?
Whitty says he does not want to make a commentary on politicians.
Q: It must have been apparent to you that the government had trouble taking decisions and sticking to them. This "degree of oscillation and chaos is apparent".
That's correct, says Whitty.
But he says "it's a matter of record that many other nations had similar problems".
Key events
Readers who will have been following earlier Covid inquiry hearings will be wondering why no juicy WhatsApp messages have been cropping up today. Whitty provided an answer, Eleanor Hayward from the Times reports.
"You have probably had the privilege of reading my rather dull – compared to other people's – WhatsApps", Whitty tells the inquiry
Whitty says it was hard to get ministers to understand implications of exponential growth
Back in the Covid inquiry, Prof Sir Chris Whitty, the chief medical officer for England and chief medical adviser for the government, said that one problem he had in early 2020 was getting ministers to understand how quickly Covid could spread. He said:
I think that one of the things that we really did not find easy to get across – and I found this surprising given that so many people in both politics and in the official system are trained in economics – is the extraordinary power of exponential growth to get you from small numbers to large numbers very quickly.

People just don't get that … I think they got it a bit more now because of having seen it. But certainly prior to this pandemic, I think people just didn't understand how quickly you move from 'it's actually very small numbers to it's actually very large numbers and doubling every few days'.
Cameron takes swipe at Boris Johnson's 'allusions' in maiden Lords speech defending his own record as PM
David Cameron did not have anything very new or profound to say about foreign policy, or the CPTPP bill, in his maiden speech in the House of Lords. But it was an accomplished speech full of jokes, flattery, self-deprecation, self-aggrandisment and score-settling. Here are the highlights.
I look forward to answering noble lords' questions monthly and appear before all the relevant committees. I recognise my responsibilities to this house and I'm happy to consider other appropriate mechanisms so that parliament is able to scrutinise all the work of my department.
That seemed to be reference to suggestions he should take questions from MPs as foreign secretary in Westminster Hall.
As prime minister, I learned that the respect we command overseas also depends on success at home. We certainly didn't get everything right. But over six years, we did smash some of the big political orthodoxies, showing you can grow the economy and cut carbon emissions, you can cut the deficit and create jobs, you can achieve the best school results in the poorest areas.

And you can start to build a society that is multi-ethnic, multiracial and proud and patriotic.

And today with a British Indian prime minister at our helm, we have a good opportunity to do all of those things and ensure we stand taller in the world and stronger too.
This passage was interesting because it does not fit with the thrust of Rishi Sunak's speech to the Conservative party conference, in which he complained of "30 years of a political system which incentivises the easy decision, not the right one" (including Cameron's government, by implication).
He said he had always admired the House of Lords as a "patient, diligent and considered complement" to the Commons. And he joked about the "ornate, carved, wooden panels" in the chambe, saying it was a signficant upgrade compared to his "now infamous shepherd's hut".
He compared himself to Margaret Thatcher, saying that in her maiden speech in the Lords she pointed out that she was responsible for giving peerages to so many of its members. He was in the same position, he said. He joked about being to blame "for putting space here at a premium".
He claimed he first set foot in the Lords as parliamentary researcher, when he listened to Lord Macmillan making his maiden speech attacking Margaret Thatcher. He said he would not be doing the same to his successor.
He jokingly dismissed Boris Johnson's chances of a comeback. By leading the leave campaign, Johnson did as much as anyone to end Cameron's premiership. In a reference to his nemesis, Cameron said:
It was a surprise to be asked [to be foreign secretary]. I have not been sitting like some latter day de Gaulle at Colombey-les-Deux-Églises waiting to be asked to – how should I put it – to take back control. Nor am I Cincinnatus hovering over my plough. I leave all classical allusions, and indeed illusions for that matter, to another former prime minister with whom I shared a number of educational experiences.
When Johnson resigned, he compared himself to Cincinnatus, a Roman leader who was called out of retirement to rule again as a dictator.
Cameron delivers maiden speech as peer, saying he hopes to spend much longer in Lords than his 15 years in Commons
In the House of Lords David Cameron is now delivering his maiden speech as a peer, opening the debate on the trade (comprehensive and progressive agreement for Trans-Pacific partnership) bill.
He was sitting on the frontbench for at least half an hour before he started, grinning broadly and clearly pleased as punch with his new role.
His speech (so far) is mostly about himself, and his comeback, but also full of flattering comments about the House of Lords. (Nothing about the CPTPP so far.) I will post a summary soon.
He started by saying that he was only in the Commons for 15 years, and that he looks forward to spending many more years as a member of the Lords.
(Clearly, he is not taking Labour's threat to abolish the Lords too seriously.)
Whitty under pressure as asked to explain why he did not do more to warn No 10 of Covid threat in February 2020
Back at the Covid inquiry, Prof Sir Chris Whitty says the government could have "moved up a gear" in February 2020 when the first warnings came that a pandemic could lead to more than 100,000 or more deaths.
He says, if someone had warned that a terrorist attack might kill this number of people, the system would have reacted very differently.
Q: Why did you not pick up the phone to No 10, and tell them they were not understanding the magnitude of the threat?
Whitty says there was a debate about exactly what the reasonable worst case scenario was [ie, whether it was 300,000 deaths or 600,000 deaths.]
He says the system is not designed to understand threats of this kind [ie, health ones, not security ones].
Q: That was a systemic failure, wasn't it?
Whitty says it is not clear what difference it would have made if No 10 had responded with more alarm. But he goes on:
Under ideal circumstances there would have been a different response.
Hugo Keith KC tries again.
Q: Given there was a system failure, why didn't you and others aware of the nature of the threat email No 10, or "shout out your concern"?
Whitty says it is difficult to know where you can go, once you have talked to all the people you have talked to.
He says Sir Patrick Vallance says in his written statement he tried to get No 10 interested via Dominic Cummings.
He says he is not convinced, if he had acted differently, the outcome would ahve been different. But he goes on:
Nobody looking at this could say this was ideal.
They have stopped for a break.
Dame Heather Hallett, the chair, tells Whitty that he will have to return tomorrow, because they won't get through all his evidence today.
Humza Yousaf tells Sunak UK should recognise state of Palestine
In the Scottish parliament this afternoon MSPs are debating an SNP motion calling for a ceasefire in Gaza.
Ahead of the debate, Humza Yousaf, Scotland's first minister, released an open letter to Rishi Sunak saying the UK should recognise the state of Palestine. He said.
The UK needs to work with the international community to break, once and for all, the political impasse that has condemned Israelis and the Palestinians to successive cycles of violence. This would be assisted were the UK to recognise the state of Palestine within the 1967 borders, as over 130 members of the United Nations, including nine members of the European Union, have done and as the new Spanish government has pledged.

Recognition would offer hope to Palestinians that a just and durable political solution is possible. It would make it plain to the Israeli government that a military solution is illusory and the expulsion of Palestinians from Gaza is unacceptable.
Yousaf also made the same argument in an open letter to Keir Starmer.
Back at the Covid inquiry, Prof Sir Chris Whitty says, looking back at the start of the crisis, he thinks it would have been good to consider asking people returning from China in early 2020 to self-isolate, regardless of symptoms.
But he says he is not sure what difference this would have made, because Covid was also getting into the UK from European countries.
Sunak rejects UN criticism of new law allowing severe sentences for climate activists who disrupt traffic
Rishi Sunak has rejected a statement from a United Nations official saying lengthy sentences for climate protesters could curb freedoms in the UK, PA Media reports.
No 10 spoke out in response to Ian Fry, the UN's special rapporteur on the promotion and protection of human rights in the context of climate change, raising concern at the sentences handed to Just Stop Oil campaigners who scaled the Dartford Crossing in October 2022.

Morgan Trowland, 40, and Marcus Decker, 34, were jailed for three years and two years and seven months respectively after using ropes and other climbing gear to scale the Queen Elizabeth II Bridge, causing gridlock across two days when police closed it to traffic.

Fry, in a letter to a UK government representative sent in August, said the sentences were "significantly more severe than previous sentences imposed for this type of offending in the past".

The special rapporteur said he was "particularly concerned" about the sentencing of the "environmental human rights defenders" in relation to their "rights to freedom of expression and freedom of peaceful assembly and association".

He added: "I am gravely concerned about the potential flow-on effect that the severity of the sentences could have on civil society and the work of activists, expressing concerns about the triple planetary crisis and, in particular, the impacts of climate change on human rights and on future generations."

But Sunak rejected Fry's comments in a post on X.
In his post Sunak said:
Those who break the law should feel the full force of it.

It's entirely right that selfish protesters intent on causing misery to the hard-working majority face tough sentences.

It's what the public expects and it's what we've delivered.
As PA reports, last month Trowland and Decker were denied the chance to challenge their sentences at the supreme court. PA says:
In July the protesters lost an appeal over what their lawyers said was the "extraordinary length" of their jail terms for the direct action on the crossing over the River Thames in south-east England.

In their ruling, the judges acknowledged the "long and honourable tradition of civil disobedience on conscientious grounds" and that the sentences handed to Trowland and Decker went "well beyond previous sentences imposed for this type of offending".

But the lady chief justice, Lady Carr, said the jail terms were "not excessive" and reflected "parliament's will" under new laws enacted under the Police, Crime, Sentencing and Courts Act last year.

The legislation introduced a new "fault-based public nuisance offence for what obviously will include non-violent protest behaviour, with a maximum sentence of 10 years' imprisonment", the appeal judges said.

Carr said the sentences met the "legitimate" aim of deterring others from such offending.
Back at the Covid inquiry Hugo Keith KC, counsel for the inquiry, is asking Prof Sir Chris Whitty about an email he sent to No 10 on 28 January 2020 warning about the risk of a pandemic.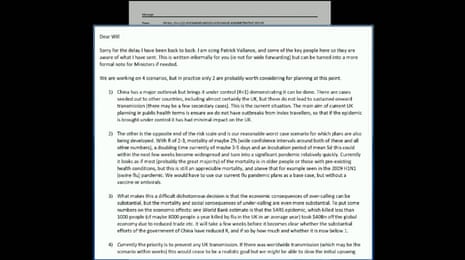 Whitty says he was concerned at the time that government might opt for a "middle way" solution.
He says he wrote this to make the point that that would not be an option. He wanted ministers to know that, if Covid was not contained in China, there would be a pandemic.
And he says he wanted them to know that, once there were in a pandemic situation, stopping the virus would not be possible. It could be delayed, but not stopped.
The UK and South Korea are to launch talks on a new trade deal and sign a diplomatic accord as part of the state visit by Korea's president, Yoon Suk Yeol,, PA Media reports. PA says:
The business and trade secretary, Kemi Badenoch, will begin negotiations with her Korean counterpart, Bang Moon-kyu, at the UK-Korea Business Forum at Mansion House on Wednesday.

They will also announce £21bn of investments committed by Korean businesses in green energy and infrastructure projects across the UK.

The UK secured a free trade deal with South Korea in 2019, with the agreement largely aimed at keeping trade flowing post-Brexit and removing uncertainty.

The UK hopes to secure modern digital provisions in a new deal because most of its services exports to Korea are delivered digitally.
Whitty says he thinks, even if a proper plan for Covid had been in place, that might not have helped.
That is because it would "almost certainly have been the wrong plan, and could even the even have slowed us down".
He says, in a crisis like this, governments need to adapt.
What matters is having the right building blocks available, he says.
Whitty says, in a pandemic, capability counts for more than the plan. "Capability trumps plans every single time," he says.
The Covid inquiry is back.
Prof Sir Chris Whitty, the chief medical officer for England and chief medical adviser for the UK, says his view in early 2020 was that the government's flu pandemic plan was not going to be of much use.
That was partly because Covid was not the same as flu, and partly because the plan was not adequate for the needs of a 1918-style flu pandemic either.
Turning away from the Covid inquiry for a moment, Tory feuding is continuing today. Damian Green, the former first secretary of state who leads the Conservative One Nation Caucus, warned at the weekend that the party would be in trouble if it were captured by the right. He posted a link to an article about his comment on X.
In response Dame Andrea Jenkyns, the rightwinger who is calling for a vote of no confidence in Rishi Sunak, has given an interview to GB News in which she says people like Green should "sod off to the Lib Dems". She said:
This One Nation Group make up the majority of the parliamentary party but these are the ones who didn't want Brexit, who didn't want Boris, who didn't want Liz Truss, so they're not really in tune with the British public. Isn't Damian Green the one who got deselected by his own association back in February?

I don't think the Tory party are going far enough [to the right] actually …

I want to stop net zero, I want strong borders, I want strong policing like the 80s where they used to drag protesters off the streets.
You don't have to be a cabinet minister or a top civil servant to give evidence to the Covid inquiry. The inquiry has asked me to point out that it is actively encouraging members of the public to submit evidence of their own experience of the pandemic, through its Every Story Matters programme. Do click on the link for details. What people will say be read and analysed, and the points made will be considered by the inquiry as it mulls over its conclusions. Anonymised versions of the evidence will also be archived.
Whitty does not accept he was wrong not to take Jonathan Van-Tam's warnings about Covid on 16 January 2020 more seriously
Q: On 14 January 2020 you were alerted to a report about human to human transmission of coronavirus.
Whitty says, by that point, they realised person to person transmission was happening in some settings. But that does not mean a pandemic was inevitable, he says.
Q: The trigger for government action had been met.
Whitty says that was the trigger for government taking it seriously. He says Sage met about a week later.
In any week, he says he gets dozens of alerts about outbreaks. He says he has a system of triggers indicating which ones need to be taken seriously.
Q: By 16 January you knew there was a coronavirus with a 12% hospitalisation rate, and human to human transmission. Shouldn't you have been taking it more seriously?
Whitty says at this point they had only known about this for two weeks.
Q: Prof Jonathan Van-Tam, your deputy, says in his witness statement he thought at that point this would lead to a pandemic. He said he was seriously concerned. He said he went to you, and he said you argued it might escalate, but that for now you should wait and monitor the situation.
Whitty says Van-Tam is quite "instinctive" in his decisions. He says if he had asked him what evidence he had there was going to be a pandemic, he would just have said it was instinct.
So Jonathan, and I think he would agree with this, is quite instinctive in some of these decisions – very often, rightly.

He is a very able epidemiologist and thinker in this area, but if I had said to him, 'OK, what is the evidence on which this is going to be a pandemic …?' he would have said 'it just feels like that to me'.

That is quite a narrow basis on which to make quite big decisions.
He says it is not clear to him that, if he had acted differently on 16 January, there would have been a better outcome in the end.
Q: Was Van-Tam's instinct right, and yours wrong?
Whitty does not accept that. He says government was already taking the issue seriously. He says he cannot see how the outcome would have been different if they had responded differently then.
He says, if the result of this inquiry is to set up a "hair trigger" response to threats like this, that would not be an advance.
Government was already engaged, he says. He says "wait and see" does not mean it was just him and Van-Tam having a chat. Scientists were monitoring the data, he says.
He says he can look back on moment in the Covid crisis where, if a different decision had been taken at an inflection point, the outcome might have been different. But he says he does not see 16 January as one of these moments.
He says, if you go to government just on the basis of gut feeling, without data, you do not get much response.
He says "waiting and seeing" only meant a few days.
He says acting early may always seem like the right thing to do. But he says that does not take into account the cases where deciding to do nothing turns out to be right.
They have now paused for lunch.