It's May 2022 and Ronnie O'Sullivan is sat in his dressing room at The Crucible in Sheffield, on the verge of winning his seventh World Championship, a feat which will see him draw him level with Stephen Hendry's record in the modern era and arguably cement his status as the greatest snooker player of all time.
But he can't face going back out to play.
"I feel like I've got stage fright," O'Sullivan tells his psychiatrist, Dr Steve Peters. "I feel like I want to cry. I don't even feel like I want to face it. I'm looking at my cue, I feel like my eyes are blurry."
The 46-year-old took an early lead in the final, but his younger opponent, Judd Trump, has just won six frames in an afternoon session to battle back to 14-11.
"I'm scared mate," says O'Sullivan.
This scene, from Sam Blair's new documentary, Ronnie O'Sullivan: The Edge of Everything – which streams on Amazon Prime from Thursday – illustrates some of the torture that snooker's most mercurial talent puts himself through for competition.
Ronnie 'The Rocket' O'Sullivan has won almost every major record in the game during a long and distinguished, but his struggles with depression, alcohol and drugs are well documented.
Blair's film is a character study in addiction to snooker perfection as much as anything. It's a dependency that doesn't always seem healthy and O'Sullivan knows the "dark places" that "toxic competitiveness" can take him.
"Emotionally, it's got me involved again and I hate this," he says after that poor session against Trump.
Last week, on the eve of the documentary's release, O'Sullivan withdrew from the defence of his Champion of Champions title, citing the need to look after his mental health.
Here are some takeaways from the film.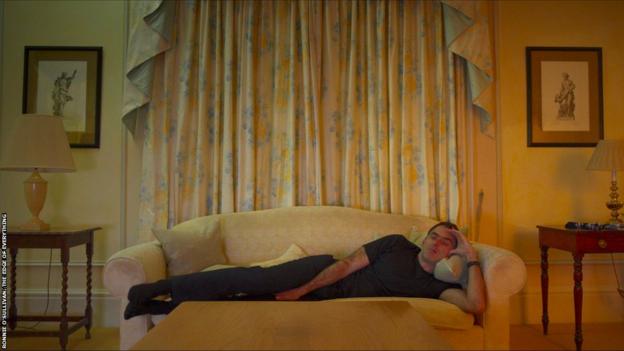 'I would have been a loser if not for my dad'
O'Sullivan found snooker aged seven.
In one scene, O'Sullivan recalls his father Ronnie O'Sullivan Snr sitting him down for a "serious conversation" aged "nine or ten", to tell him that he was going to be the best snooker player in the world.
O'Sullivan Snr would also force his young protégé to go running for fitness, whilst he himself followed behind in a car.
Although O'Sullivan calls the experience "humiliating", he says that he "needed it", otherwise "I would have been a loser and he weren't having it".
"Nothing can prepare you for that" – on O'Sullivan Snr going to prison for murder
When O'Sullivan was just 16 years old, his dad, who made his fortune running sex shops in Soho, was jailed for life for murder.
For the young O'Sullivan, it was devastating.
"Nothing can prepare you for that," he says. "I couldn't make sense of it."
In one scene, through tears, O'Sullivan remembers his father's words after being sentenced: "Just tell my boy to win."
Drink, drugs and depression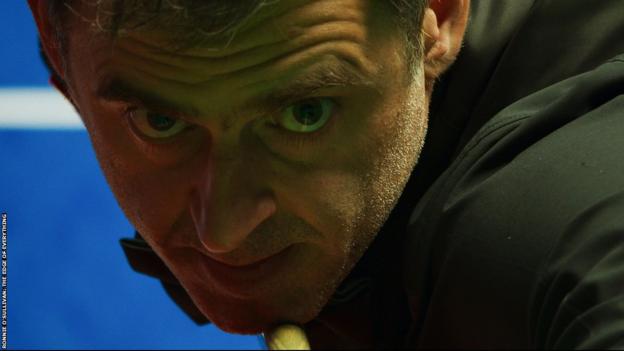 Earlier this year, the seven-time world champion told BBC Radio 4 Today that he "lost six, seven years to drinking and taking cannabis".
His close friend, famous British artist Damien Hirst, tells a horrifyingly illustrative story about how close O'Sullivan could quickly sail to the wind.
"I once had a time with Ronnie where he called me up and he just said, 'look, I'm in the Masters, I need to go the Priory'," recounts Hirst.
"I said, 'I'll come in my car right now, I'll take you'. We sat down, had a cup of tea, he calmed down a little bit. He said, 'do you want to just have a little knock about on the practice table?' We did a little knockabout and then he went 'I think I might play this afternoon'."
Hirst says that O'Sullivan went on to win that tournament.
'I've got to hurt and suffer in order to win'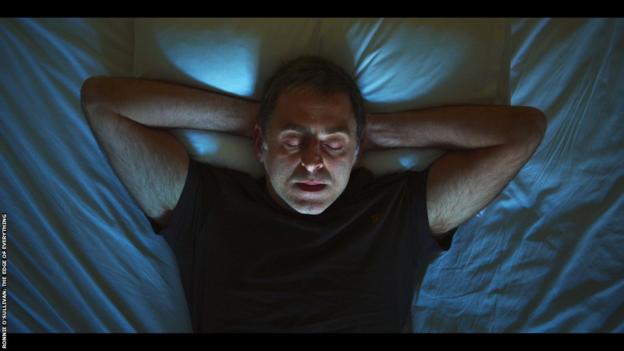 O'Sullivan talks constantly of having to manage his relationship with snooker.
In one interview, laying on a sofa, he explains what the "winning system" takes for him.
"You've got to just smother yourself in the mustard and go deep within it – hurt and suffer," says O'Sullivan.
"Or I can take the approach that I did for the last five years and just enjoy every game. That was okay – there's less battle scars, less depression – you just enjoy playing it like you did when you were a kid. Sometimes you have to choose how bad you want it."
"Don't let them burn you out" – O'Sullivan to Trump
As O'Sullivan was crowned world champion for the seventh time in 2022, he shared a prolonged hug with his opponent Trump that lasted over a minute.
Blair's documentary picks up what was said between the pair through O'Sullivan's microphone.
"Enjoy your snooker, don't let them burn you out," O'Sullivan advises the 34-year-old Bristolian.
Trump thanks the elder statesman, saying, "you took your time out for me and I'll always appreciate that".
When the younger man tells his counterpart, "you're the best player of all time, I love you man," it causes O'Sullivan to break down in tears.
Next we see The Rocket embracing his children, telling them "I can't do this anymore! It'll kill me!"
At 46, he is the oldest world champion in Crucible history.
Posing for photos with the trophy, O'Sullivan's father turns to his son to say, "that's it now isn't it? Done now aren't you?"
O'Sullivan's response is ambivalent: "I don't know mate…."
Ronnie O'Sullivan: The Edge of Everything is available exclusively in cinemas across UK & Ireland on November 21 and launches on Prime Video on November 23.