Greggs is set to ramp up its evening trade after revealing it is currently the fastest-growing part of the day for the business.
Announcing its full-year results for 2022, the company said it had extended the opening of 500 of its shops to 8pm and will extend the opening of 300 shops to 9pm during 2023. It is also planning to trial 24-hour drive-through sites.
The news came as Greggs reported a strong performance in 2022, with total sales up 23% year on year to £1,513m, and pre-tax profit up 1.9% to £148.3m.
The business opened a record number of 186 new shops, and closed 39, increasing its estate to 2,328 at 31 December 2022.Greggs said it plans to open 150 shops in 2023, and that it sees a "clear opportunity" for significantly more than 3,000 UK shops in time.
"We are expanding in new locations to achieve this – setting up shops inside supermarkets, in travel hubs as well as in retail parks and shopping centres," stated the business. "The versatility of our shop format is one of our greatest strengths, operating in anything from a kiosk to a full-service drive-through unit."
Greggs also opened its first eco-shop last year, describing it as a test bed for future in-store sustainability initiatives.
Home delivery has been a growth area in 2022 through Greggs' partnership with Just Eat. A delivery service is offered by 1,270 shops and accounts for 5% of overall sales.
"Consistent with the market trend, our delivery volumes have been normalising as in-store volumes recover post-Covid, but the longer-term opportunity remains intact and we are committed to developing this further in the year ahead, both by broadening the reach of the service and by raising operational standards," said the retailer.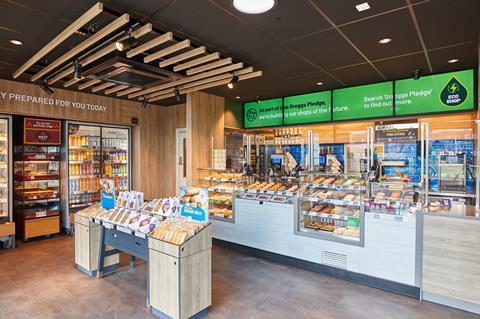 Improving its click and collect service will be a focus for the business in 2023. The Greggs app already enables customers to customise their click and collect breakfasts and pizzas, and the company is now testing whether it can offer the same with sandwich baguettes.
Greggs reported that evening is now its strongest-growing segment of the day, albeit from a low base. In 2022 its share of post-4pm visits was 1.2%.
Chicken goujons and pizza slices had proved popular with evening shoppers, and the business has introduced warm versions of some of our core products, such as hot yum yums with a salted caramel dipping sauce.
As part of Greggs' ongoing supply chain investment, it will be adding a fourth savoury products line at its factory in Balliol Park, Newcastle, and last year commissioned a new pizza line at its Enfield manufacturing site.
The business is currently switching its primary delivery fleet to double-deck trailers to move more goods per journey, which will reduce its carbon emissions. Greggs' distribution centres in Birmingham and Amesbury will be redeveloped this year, followed by investment in the Midlands area to develop a national distribution centre and a manufacturing and frozen storage facility.
"2022 has been a year of strong progress for Greggs, the result of committed efforts to deliver our strategic growth plan," said chief executive Roisin Currie. "Although consumer incomes remain under pressure, Greggs continues to offer exceptional value to people looking for great tasting, high-quality food and drink on-the-go."
"We have an exciting, ambitious plan for the years ahead and I believe we are extremely well-placed to realise the opportunity to become a significantly larger, multi-channel business."
Currie added that the business had started 2023 well, with like-for-like sales in company-managed shops up 18.8% in the first nine weeks, reflecting the impact of Omicron in the previous year.