Last month's appointment of Cheryl Potter to the M&S board was big news. And not just because the former Permira consumer head was described as a "superstar of the private equity world".
Once Potter takes her seat, the M&S board will be female-led. It makes M&S one of only 21 companies in the FTSE 250 to have a board tipped in favour of women.
It's a prime example of retailers making great strides in equality at high-level positions, says Mary Walsh, communications advisor at the FTSE Women Leaders Review.
Supermarkets, in particular, "rank as some of the strong performers" on this measure, Walsh points out. Figures from the latest FTSE Women Leaders Review, published this month, testify to that strength.
The report shows the proportion of women on FTSE 350 boards topped 40% for the first time in 2022 – up from just 23% in 2017.
Many grocery businesses have gone above and beyond that figure. At Sainsbury's, 44.4% of board roles are held by women – and this month, its operating board will achieve gender parity with newly promoted CFO Bláthnaid Bergin replacing Kevin O'Byrne. At the same time, Clodagh Moriarty takes on additional responsibility for technology in a new role, after Phil Jordan stepped down in February (see p32).
At Tesco, its boards are 41.7% female. At John Lewis, 62.5% of board roles are held by women. In a foreword for JLP's report, chairman Sharon White said there was still more work to do – requiring "relentless, senior focus supported by data, which is the most effective way to shine a light on gender inequalities".
That senior focus seems in plentiful supply. As this list illustrates, there are plenty of women holding high-level positions across the supermarkets in CEO, finance, retail, marketing and HR positions.
And in many cases, these women are leading work to make boardrooms more equitable. Grocery Girls, a network for women in the sector, has noticed a growing focus on this goal among its members.
"In a recent survey to our network, leadership was voted the biggest area of focus for 2023, showcasing a real appetite for progression among women in grocery," says Molly Hodge, communications and events manager at the organisation.
Indeed, supermarkets who responded to The Grocer's request for comment were keen to highlight their work on this front.
Sainsbury's says it has set "rigorous targets" for increased representation of women in more senior roles, backed by a tailored programme to support "high potential" women.
Morrisons points to a bespoke six-month development programme it ran last year, designed "to help increase female representation in senior levels throughout the business".
Asda, which just last month reported a decline in its gender pay gap, has similar initiatives in place. A working group "meets regularly to look at how we approach recruitment and training, as well as implementing development programmes that help us support and develop the female leaders of the future", says Mickey Greenhalgh, senior director of learning, leadership and ED&I.
At Co-op, 90% of its executive leaders are female. But there is still work to do to build "female representation at all senior work levels across the business", it says – work that has included the introduction of an 'All-Colleague Code' to help recognise and address non-inclusive behaviours.
It stands to reason that leadership equality has become the latest area of focus. Already, the supermarkets have made big strides on pay. Latest ONS figures show the median gender pay gap at the top nine supermarkets was 10% at its highest level, points out Tea Colaianni, founder and chair of Diversity in Retail – "well below the national UK average".
If they want to close that gap further, they will have to look at their leadership. After all, the gender pay gap looks at how much women and men are paid across the business, rather than comparing salaries in the same roles.
So if men tend to occupy the most senior, highly paid positions, while women occupy the majority of lower paid positions on the shop floor, the pay gap will remain.
"Representation is recognised as the clear driver in reducing the pay gap, especially at the higher end of the earning scale where still too few women sit within management and leadership roles," says Colaianni. "With this in mind, many organisations are setting new aims for greater female representation."
This work is vital, says Colaianni. "Women need to be able to see themselves represented at senior levels to have the confidence to reach the top echelons in a business," she stresses.
Grocery Girls agrees. "If you can't be it, you can't see it, and it's up to us as a collective to continue to spotlight female role models across the industry," says Hodge.
There is one counterpoint to all this positivity, though. The public-facing nature of supermarkets has been widely credited for acting as a catalyst on gender equality.
Now, two of the big four – Morrisons and Asda – are under private equity, and therefore under less scrutiny.
Still, Colaianni remains optimistic. Whether private or public, all companies are required to report on their gender pay gap, she points out. Plus, the 2021 report from Morrisons shows its 6.8% median pay gap was in line with other UK supermarkets, and the firm has been keen to highlight "the presence of female talent in its pipeline" she adds.
Walsh at the FTSE Women Leaders Review is also optimistic. This year, it has included 50 private companies in its review for the first time. "It is interesting to see they are keeping pace with the FTSE 350 in their drive to achieve gender balance at the top," she says.
For her, it signals "a sea change underway in British business". And if the supermarkets have anything to do with it, they'll be at the forefront of that change.
Alessandra Bellini
Chief customer officer, Tesco
Tesco's chief customer officer takes pride of place on this list for a reason. Having held the role for six years, Bellini was a key figure in Tesco's turnaround under ex-CEO Dave Lewis – and has played a pivotal role in Aldi Price Match, Clubcard Prices, and the recently launched Tesco Media & Insight platform, which turns those Clubcard insights into revenue. One source describes her as "the voice of Tesco".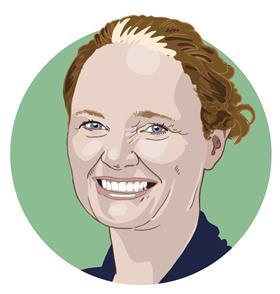 Clodagh Moriarty
Chief retail & technology officer, Sainsbury's
Moriarty was promoted this week from chief retail and digital officer to this new role, taking on the responsibilities of former chief information officer Phil Jordan, in addition to her store and online integration remit Sainsbury's, Argos, Tu, Sainsbury's Bank and Nectar. It's a tough job but the ex-Bain consultant has excelled in all roles since joining Sainsbury's nine years ago and is very highly regarded.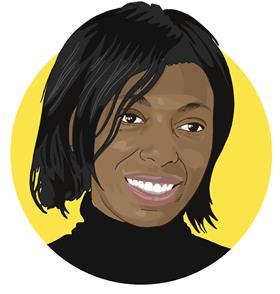 Sharon White
Chairman, JLP
Having forged her career at the Treasury, White took on the top role at John Lewis in 2020 – just as the pandemic hit. Since then, she has pursued a transformation strategy that has required some tough decisions, including the closure of eight John Lewis stores. More recently, the deterioration in trading at Waitrose has prompted a £100m investment in pricing, and a review of ranging, productivity, marketing and store refurbs.
Rhian Bartlett
Food commercial director, Sainsbury's
Bartlett first joined Sainsbury's as head of online merchandising in 2008, progressing to become director of the non-food business unit. In 2015, she left for stints at Screwfix and eBay – but returned to Sainsbury's as fresh food director in 2019. Having proved her credentials, in 2020, Bartlett took on her current role, in which she is responsible for the performance of the Sainsbury's food business and brands, which include, curiously, fuel.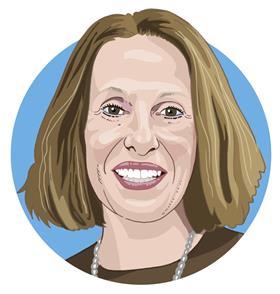 Shirine Khoury-Haq
Group CEO, Co-op
After running The Co-op's funeral care business, Khoury-Haq initially replaced the departing Steve Murrells on an interim basis in spring 2022. But in August, she was confirmed as the group's first female group CEO. Her financial and technology background has no doubt come in handy at a challenging time, with Khoury-Haq forced to take some tough cost-cutting measures, including head office redundancies.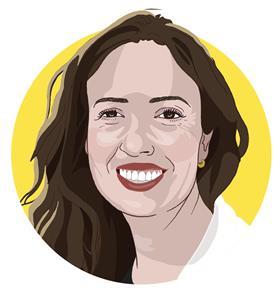 Joanna Goff
Chief financial officer, Morrisons
Only two internal people sit on the Morrisons board: CEO David Potts and Joanna Goff. The chief financial officer secured her seat and title in April 2022, after 11 years of working her way up through the business – as operations development director and group finance director. An ex-PwC veteran, Goff will need all her experience to help Morrisons navigate its future as a private equity-backed business with £7.5bn of debt to service.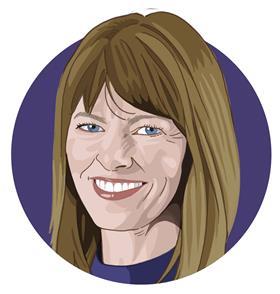 Hayley Tatum
Chief people & corporate affairs officer, Asda
As chief people & corporate affairs officer, Hayley Tatum is responsible for the 150,000 people who work at Asda in the UK, and has been on the executive board since 2011. Her results speak for themselves. Asda is routinely recognised as one of the UK's top employers in various surveys. Plus, Tatum joined the DWP in a non-exec role in 2017 – and she now chairs the nominations committee and serious case panel.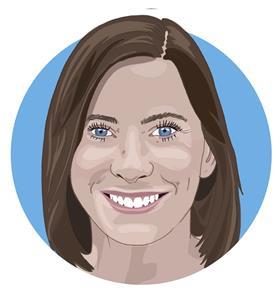 Rachel Eyre
Chief customer & marketing officer, Morrisons
Despite joining Morrisons just two years ago, Rachel Eyre has a hefty list of responsibilities. In her role, she looks after customer service, brand & product development, marketing, price & promotions, digital, customer experience, insight and PR. Prior to Morrisons, she held several key roles at Sainsbury's, including group director of brand comms and head of its Future Brands scheme.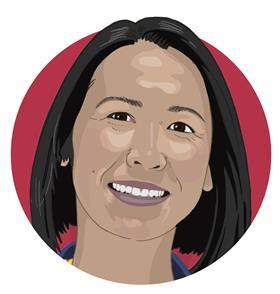 Charlotte Di Cello
Commercial director, Waitrose
Having built her career across PwC, L'Oréal, Sainsbury's and Leon, Charlotte Di Cello joined Waitrose as commercial director in January 2021. In that role, she is responsible for maintaining Waitrose's performance against the backdrop of the cost of living crisis – and while she has been clear the retailer will not "change who we are and what we stand for", the recent £100m investment in price cuts suggest Di Cello is grasping the nettle.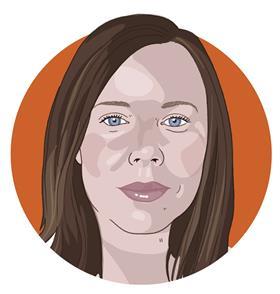 Emma Harris
Finance director, M&S food, property & retail
M&S now has seven women on its board and just six men. As finance director for M&S food, property and retail, Emma Harris is a key figure in this female-heavy leadership team. She took the role in June 2022, having been promoted from director of group finance. She has also held senior financial roles across the likes of Walgreens Boots Alliance, Asda and Boots Opticians.
A MESSAGE FROM THE SPONSOR
With 8 March being International Women's Day, the world is celebrating and championing women and their achievements. It is therefore apt that this month's Power List celebrates the supermarkets and the superwomen within them. From the more tenured on the list such as Alessandra Bellini, who has been pivotal in the transformation of Tesco, to the more recently appointed Rachel Eyre, these women are inspirational role models bringing fresh, diverse perspectives to previously male-dominated leadership teams.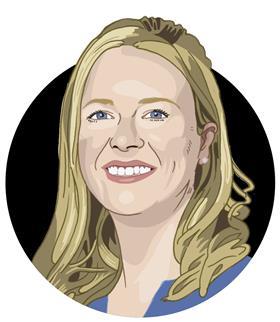 As we know, more diverse teams bring better results. What these appointments show is that more diversity at the c-suite level is bringing better equity as well as equality for the women in the companies. Since the appointment of these women, we have seen a reduction in the gender pay gap across supermarkets. Six of the 10 biggest supermarkets in the UK have worked to close the gender pay gap. Sainsbury's has made the biggest improvement, closing its gap by 5.2%, while Asda more recently closed its gap to 4.7% in 2023. Could this be down to the emphasis these companies have put on attracting more female talent? Tesco, Morrisons, Sainsbury's, JLP and Waitrose are all part of the 30% Club, a global campaign for CEOs to commit to gender diversity.
The positive gender influences don't stop there. Enhanced menopause support policies have been enacted across all of the supermarkets, including a specific Menopause Network at M&S.  Morrisons and Tesco have both been challenging period poverty, an issue which impacts 12% of British women. Additionally, Tesco is part of the Eve Appeal's Every Woman Promise commitment to support women's mental health.
It will be interesting to see the impact of private equity – both Asda and Morrisons are now private equity-owned – on the industry. What could this mean for the future of ownership of other supermarkets, and the positive movement we've seen in gender diversity programmes? So far Asda and Morrisons continue to improve their policies for female colleagues, but only time will tell if this trend will continue. Asda, although not part of the 30% Club, ran a six-month development programme last year to increase the number of women in leadership positions. It gives hope that regardless of how supermarkets are owned, it may not negatively impact growing gender diversity, increased equality and equity for women within supermarkets.
Emily Deer, Director at Newton Europe