Chad Ramey gained +5.77 strokes on the greens which was only accomplished by three golfers last season, making this a 1 in 5000 occurrence. Collin Morikawa sits in 2nd one shot back, gaining his strokes in a much more conventional and sustainable way with his incredible ball striking. Scottie Scheffler and Sam Burns are the only two other golfers of substance inside the top-10.
This article is going to take a look at showdown slates after each completed round. You can find me on Twitter an unhealthy amount of the time @TheModelManiac, if you have any questions, compliments, or insults for me. My DFS style is very ownership-centric, and more often than not, this can make you feel like an unsuccessful DFS player, but every now and then when a sneaky, low-owned golfer comes through for you, it is all worth it. In this article, we are going to break down the previous round's top performers and duds and use that information to derive a player pool full of upside and leverage.
The general logic to showdown has been to target golfers who played well the day before and particularly those who hit their irons well. This makes sense as you want to roster players who are playing good golf right now. These players will be higher-owned and chalkier than golfers in the same price range who had an off day, particularly with their irons. These are the golfers I am gravitating towards, as they could very easily bounce the following day at half the ownership.
Featured Promo: Want a free RotoBaller Premium Pass? Check out these sports betting promo offers from the top sportsbooks! All new sign-ups get a free bonus offer on their first deposit, and a free year of RotoBaller's Premium Pass for all sports ($450 value)!
Sign Up Now!
Ownership Analysis
Top Points Scorers
16 of the top 21 point scorers were sub 10% ownership, so don't be shy to get freaky with your lineups on this course.
Highest-Owned Golfers
Notice the amount of green AM tee times. This will be even more pronounced in tomorrow's slate, with winds looking to be brutal as the day progresses.
Going into Round 2, these are the color codes we will be using to identify who we want to target. Think of it as a traffic light with four colors. Stop at mega chalk and go when we see leverage that makes sense.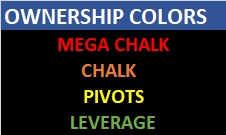 By taking a look at yesterday's ownership, we can get an idea of where people will be willing to go in Round 2 (DK points include finishing position).
Mega chalk: A popular player who played well yesterday.
Chalk: a) A popular player who played okay yesterday, b) A less popular player who played well yesterday.
Pivots: a) A popular player who played poorly yesterday, b) A less popular player who played okay yesterday.
Leverage: A less popular player who played poorly yesterday.
Did you know RotoBaller has a Premium DFS PGA subscription?
Like what you read today? You can show your support for Byron by using the discount code MANIAC when purchasing a PGA Premium Pass. You get 10% off and full access to all of our Premium PGA articles, DFS tools, and Lineup Optimizer! You also get access to weekly betting picks from Spencer Aguiar, one of the top betting minds in the industry. Spencer absolutely crushed it in 2022!
Round 2 Strategy
We saw all the AM tee times at the top of the R1 DK points (outside of Justin Suh, guys still out on the course won't be contending for top DK scorers anyway). Tomorrow, gusts look to be blowing hardest in the afternoon, so any of the golfers going off in the AM should see the easiest conditions.
Round 2 Power Rankings
Below are the power rankings of the golfers who we have our eye on for Round 2. The full-field model is available to premium subscribers HERE. It includes pre-event rankings, round-specific scoring averages, birdie percentages, weighted approach ratings, and ownership projections for tomorrow's showdown slate.
***Full disclosure: The ownership numbers are based on the $5K Short Game $1 20 Entry Max contest, which is important to note as ownership in showdown can vary from contest to contest depending on field size and entry fee. However, it should provide you with a guide to who will be the most owned and how those around them shake out.
$10,000+
The entire $10K range is going off in the afternoon. Of the three Scottie Scheffler will be most owned, with Jon Rahm, then most likely Rory McIlroy seeing the least clicks of the three. The weather looks pretty daunting considering the course they will be playing has water everywhere.
You won't have to play too much of these guys to get leverage on the field, especially if you throw Rahm and/or Rory in a few lineups. The best players in the field should deal with the wind the best but be warned it could easily backfire … or win you a GPP if they manage to still go low at single digit ownership. Fortune favors the brave.
$9,000+
Max Homa is going to be the only chalk we choose to pursue in this range. With him being the highest priced golfer going off in the AM, he will be clicked a lot by those who don't want to leave salary on the table. Remember that 16 of the 21 highest point scorers were sub 10% owned, so don't be shy to leave money on the table on a course that will be even more difficult tomorrow. Max is losing on the greens and gaining ball-striking, which is another reason why he will be super popular.
Justin Thomas played poorly today, but maybe we see THAT wind round tomorrow where he forgets that he is playing golf, and just becomes one with the elements, shaping golf shots like the naturally talented ball striker he is. When the wind blows JT tends to play some of his best golf.
Viktor Hovland is someone who will be excessively owned thanks to his T12 position, $9,300 price, and AM tee time. We are fading him and picking on a few of the 35 other golfers who own a better 2nd round scoring average like Xander Schauffele, who is not playing his best golf, but could have something click tomorrow, at very nice ownership.
$8,000+
Will Zalatoris and Cameron Young with Will boasting an impressive R2 scoring average which is the best of his four splits. Cameron Young is one of the leading birdie makers in the field and hits a lot of shots inside "good shot range" which is what that "App Score" column is reflecting.
Matt Fitzpatrick will simply be an ownership play and a warm body to add to lineups if lacking middle tier golfers. His birdie rates are poor and so are his approach stats, but he does tend to play his best golf in R2.
$7,000+
Shane Lowry is an Irishman we look to roster heavily as he has a fantastic around-the-green game and is comfortable in the wind. He is also a slow starter at times, sitting outside the cutline going into Friday, often stepping up and playing well enough to afford himself some free weekend rounds of golf. If conditions are gruesome, we want Lowry in our lineups.
Sahith Theegala is somebody who will be rather popular considering he shot -2 while being one of the worst putters in the field. His $7k price tag and Am tee time will be enticing for those looking for him to bounce back with the putter. With the player pool essentially split in half tomorrow, Theegala's approach play has been trending in the right direction lately.
Chris Kirk has a nice R2 scoring average and will be looking to bounce back on a course that should suit his game. Seamus Power will be another golfer we look to target in this range, along with Tom Hoge, Thomas Detry, Alex Noren and Maverick McNealy.
$6,000+
Davis Riley seems far enough from the top of the leaderboard to be clear of any anxiety induced blow up rounds. Aaron Wise went 7 over in two holes, so we will be going to him at minimal ownership. Sepp Straka also played poorly and could bounce back in the AM if his putte gets hot. Sam Ryder is looking to finish up R1 in the morning and then win us a GPP.  Good luck this week, and as always, may the odds be ever in your favor!!!
Win Big With RotoBaller
Golf is back, and it's time for you to win big with RotoBaller! Our PGA DFS Premium Package features several savvy analysts and proven DFS winners.
Our very own Joe Nicely recently took down a big DraftKings DFS tournament for the Travelers Championship. And as an encore, RotoBaller subscriber @tenndolly2 won $100K on FanDuel with the help of Joe and the rest of our Premium PGA team:
If you read my articles @RotoBaller or listen to @TheTurnGolfPod I've been telling y'all it was #WinningSeason when golf came back! Shoutout to the entire @RotoBallerPGA squad and all you guys that support my work for all the ❤️ pic.twitter.com/07a4ynvbSU

— Joe Nicely (@JoeNicely) June 28, 2020
Congrats @tenndolly2 ???

Thanks for being a @RotoBaller PGA DFS Premium subscriber & checking out all the amazing golf content that @JoeNicely produces every week! https://t.co/tHKZVsPbbt

— RotoBaller PGA (@RotoBallerPGA) August 10, 2020
Between all the incredible Premium PGA DFS content and tools we put out each week, and our Premium Slack Community where we chat with our subscribers before lineups lock, RotoBaller PGA subscribers are armed with the tools, analysis, and advice to win big.

Golf DFS News and Player Outlooks
More PGA Analysis and DFS Lineup Picks