8 March 2023, 05:51 | Updated: 8 March 2023, 09:21
Southern England has been hit by snow as the Met Office warned of possible travel disruptions as Britain experienced its coldest night of the year.
It fell in London, the west of England and south Wales early on Wednesday, as Kinbrace in the Highlands saw -15.2C temperatures.
Schools across the South East and South West of England, as well as Scotland and parts of Wales, closed.
Motorists have also been told to plan ahead as heavy snowfall caused roads in Surrey and Hampshire to shut, while National Highways issued a "severe" warning for drivers across the South East and South West.
A yellow warning for snow and ice was in place for most of southern England and southern Wales, lasting until 9am on Thursday. Up to four inches of snow has been predicted for higher grounds
"Spells of snow on Wednesday may cause travel disruption during Wednesday into Thursday morning," the Met Office warned.
Read more: Snow to sweep the UK on the coldest day of 2023 so far as temperatures fall to -10C, with London to be hit this week
"Possible travel delays on roads stranding some vehicles and passengers. Bus and train services may be delayed or cancelled, with some road closures and longer journey times possible.
"Some rural communities could become temporarily cut off. Power cuts may occur and other services may be temporarily affected.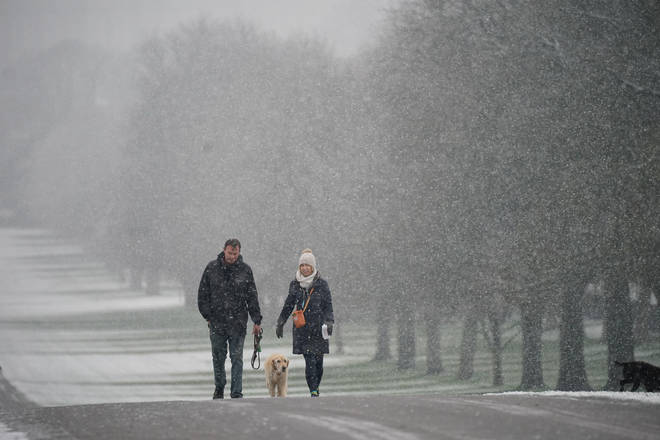 "Untreated pavements and cycle paths might be impassable with a chance of injuries from slips and falls on snow-covered or icy surfaces."
A snow and ice warning was also in place for much of north eastern England and north and eastern Scotland until 10am on Wednesday, and one was in place for Northern Ireland until 9am.
Read more: Emergency coal-fired power stations to be used to avoid blackouts on coldest night of the year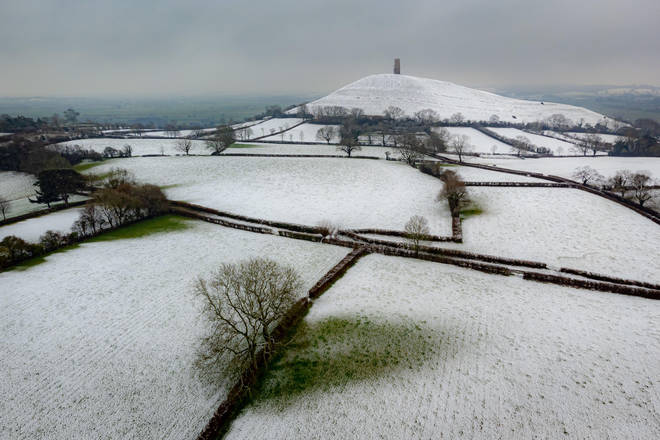 Road delays
National Highways warned of long delays, especially during the evening rush hour.
Its severe weather alert was issued for South East and South West England and it takes effect from midday.
"Road users are advised to check ahead and plan for disruption to their journeys," it said.
"Snow is forecast to move north into the South West and the South East tonight. Snow amounts are expected to be small but could be widespread away from immediate coastal areas, with 1-2 cm for many and up to 2-5 cm on any modest hills (Haldon hill in particular).
"The snow is expected to ease during the morning but will be followed by a more significant second wave during Wednesday afternoon and through the evening.
"The snow will most likely lose ground in Devon but elsewhere it will be prolonged and occasionally heavy, particularly during the evening rush and to the east of the M5, leading to potential slow traffic and loss of traction on steep inclines (including the A417)."
Hampshire Police said asked motorists to "avoid travelling if you can", while Wiltshire Police said driving conditions are very dangerous and they have been responding to stranded vehicles and crashes.
Several lorries became stranded on the A39 at Nether Stowey in Somerset, forcing that section to shut.
On the South Coast, some roads have become impassable, including the A267 from Mark Cross to Frant and the A285 from Upwaltham to Heath End.
The A3, heading south from the A283 Milford to the Hindhead, has been closed.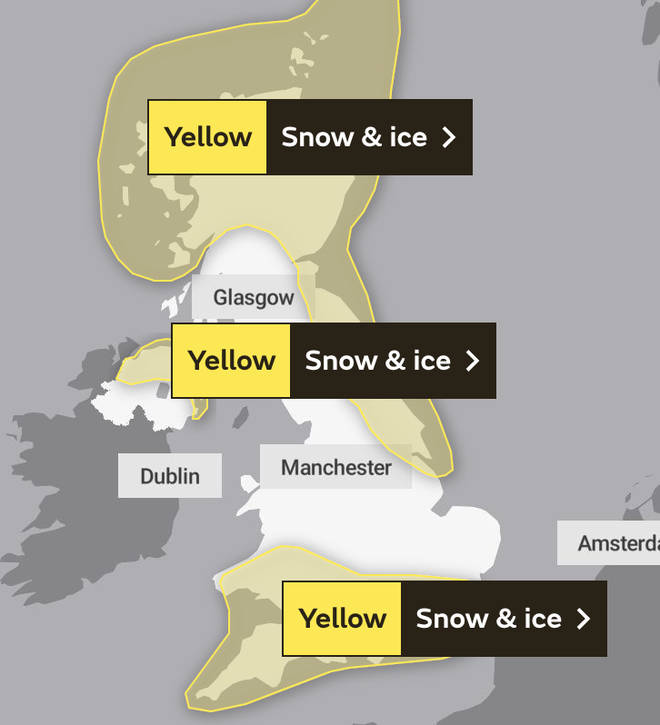 Public transport
Flights from Bristol Airport have been suspended. An update is expected later in the morning.
Bus services in Bath and Somerset have been suspended.
Rail services run by Southeastern face becoming disrupted from 5pm and some routes could shut early. The operator asked passengers to consider travelling home earlier than usual.
National Rail said: "The poor weather may cause disruption to train services, so please check your complete journey is possible before you travel."
Minor delays were reported on the District Line due to ice on the tracks.
The National Grid implemented emergency plans to avoid blackouts, with two coal powered stations in Lincolnshire feeding into the national grid on Tuesday ahead of what could have been the coldest night of the year.
The Met Office said it could drop to -15C in the Scottish glens.
Forecasters said on Tuesday morning that the south of England and Wales could be hit with 1-3cm of snow throughout, with local patches of snow reaching 5-10cm deep.
The cold weather is being driven by the same phenomenon linked to the Beast from the East in 2018.
The UK Health Security Agency asked people to check on vulnerable people during the spell.
Dr Agostinho Sousa, the agency's head of extreme events and health protection, said: "During periods like this, it is important to check in on family, friends and relatives who may be more vulnerable to the cold weather, as it can have a serious impact on health.
"If you have a pre-existing medical condition or are over the age of 65, it is important to try and heat your home to at least 18°C if you can."