London is highly regarded as one of the most fashionable cities in the world, and there's no shortage of opportunities to shop. From weekend markets with tasty treats to charming riverside bookstores, there's something for everyone. And who doesn't love walking away with a memory and physical token of a great vacation?
But sometimes, it can be overwhelming to navigate this busy city and figure out what's worth buying. There are few more disappointing things than buying something thinking it was so unique or representative of one's vacation only to find out it's purchasable in a store at home or on Amazon. So what are the best things to buy while visiting Londontown? Read on to find out!
Related: Exploring London: Book These 10 Iconic Tours For An Unforgettable Experience
Quintessentially British Finds
There are some things that are just so… British. And while some of these companies are now online, often shipping and/or taxes can be prohibitive. So it's smart to grab some things from these spots if in the Big Smoke!
Tea And Biscuits from Fortnum & Mason
Tiffany's Blue has got nothing on Fortnum & Mason! An iconic destination for afternoon tea, Fortnum & Mason's storied history of tea making (it is one of several 18th and 19th-century department stores in London) ensures the quality and taste of their products. Their packaging is absolutely beautiful so teas, biscuits, and chocolates from F&M make for wonderful presents for loved ones back home. The basement floor of the store also doubles as a food hall, so grab some fancy foods for an easy, yet decadently delicious dinner at the hotel or Airbnb.
Location: 181 Piccadilly, St. James's, London W1A 1ER
Closest Tube Stations: Green Park. Piccadilly Circus
Fortnum & Mason is famous for its teas.
Inexpensive Clothes And Crumpets at Marks & Spencer
Part grocery store, part department store, Marks & Spencer is the British equivalent of Target–shoppers go in for a bottle of water and come out with two bags of groceries and a jumper (British for a sweater!). Some great souvenirs to grab from this British giant would be [more] tea, crumpets, clotted cream, and chocolates. While both M&S and F&M now have online sites that even Americans can shop, the in-store experience proves to still be cheaper and have a more diversified choice of products.
Location: various locations across the city with larger stores at Kensington High Street and Mayfair
Related: 11 Coolest Neighborhoods In London That Will Keep You Coming Back
Local Drugstore Finds At Boots
While shopping for souvenirs at a drug store seems, well, boring, Boots is actually a fun place to grab some British wellness and cosmetic brands. Beauty gurus will recognize brands like Makeup Revolution, Rimmel, and Lottie London, but there are many other British brands that will delight even the pickiest beauty aficionado. Try the brand Collection for its complexion products, MUA Makeup Academy for vibrant color stories, and XX Revolution for its sparkles.
Location: various locations across the city with larger stores in Piccadilly Circus and Covent Garden
The Boots in Piccadilly Circus is one of the largest in the city.
Luxury In London
London is home to some of the most luxe labels, so it's worth a jaunt through some luxury labels' flagship stores or the uniquely rich department stores only found in London.
Shop The Halls In Harrods
Harrods is a delightfully dizzying and decadent department store in London's Knightsbridge neighborhood. With deep ties to the British Royal Family, an extensive history, and representing all things luxury in London, shoppers will find everything from extreme luxury clothing and handbags to rich food halls to opulent housewares. Some of the best (and most economical) souvenirs to bring home from Harrods include beautiful bits of stationary, their house champagne, and their Harrods brand totes and shopping bags. Willing to splurge a little more? Then visit one of the luxury pop-ups (in the recent past Harrods has hosted the launches of Louis Vuitton x Yayoi Kusama and Christian Dior Cruise) to purchase some extremely unique and limited edition luxury pieces.
Location: 87-135 Brompton Road, London SW1X 7XL
Closest Tube Station: Knightsbridge
Harrods has the best luxury items to buy in London.
Get Posh Beauty Pieces At Victoria Beckham
While available throughout the world, shopping at Victoria Beckham's flagship store–a stone's throw from Fortnum & Mason and the Ritz– is truly a unique experience. A well-curated, industrial boutique, the best buys from the flagship is from Beckham's beauty line. Here, shoppers can swatch and sample different parts of Victoria Beckham's beauty products, and with exchange rates in mind, prices tend to be cheaper than purchasing online.
Location: 36 Dover Street, London, W1S 4NH
Closest Tube Station: Green Park
Related: Inside David and Victoria Beckham's Epic New Luxury Apartment in Miami, Florida
Accessories At Duty-Free Shopping
While London has 6 different airports to choose from, London Heathrow has some of the best duty-free shopping for travelers. With luxury boutiques scattered across all terminals at LHR, the duty-free version of these brands means shoppers can find a designer deal. Luxury accessories are a particularly smart buy– for instance, a pair of Gucci sunglasses from the new season averaged $100-$150 cheaper at the duty-free shop than at a US domestic Gucci boutique.
Related: Everything You Need To Know About London's Airports in 19 Points
London's vintage market is absolutely bonkers in the best way. From luxury resellers to some of the best charity shops (aka thrift stores), there are several vintage shopping opportunities that are unique to London.
Beautiful Jewelry At The Hirst Collection
This vintage jewelry store in Notting Hill, a vintage-lovers neighborhood, is a dazzling destination for luxe-looking, blast-from-the-past pieces. It's even possible for shoppers to find vintage pieces from storied fashion houses like Chanel, Yves St. Laurent, and Givenchy. The Hirst Collection is best for those looking to pick up a truly one-of-a-kind piece and some of the best investments include earrings and necklaces.
Location: 59 Pembridge Rd, London W11 3HG
Closest Tube Station: Notting Hill Gate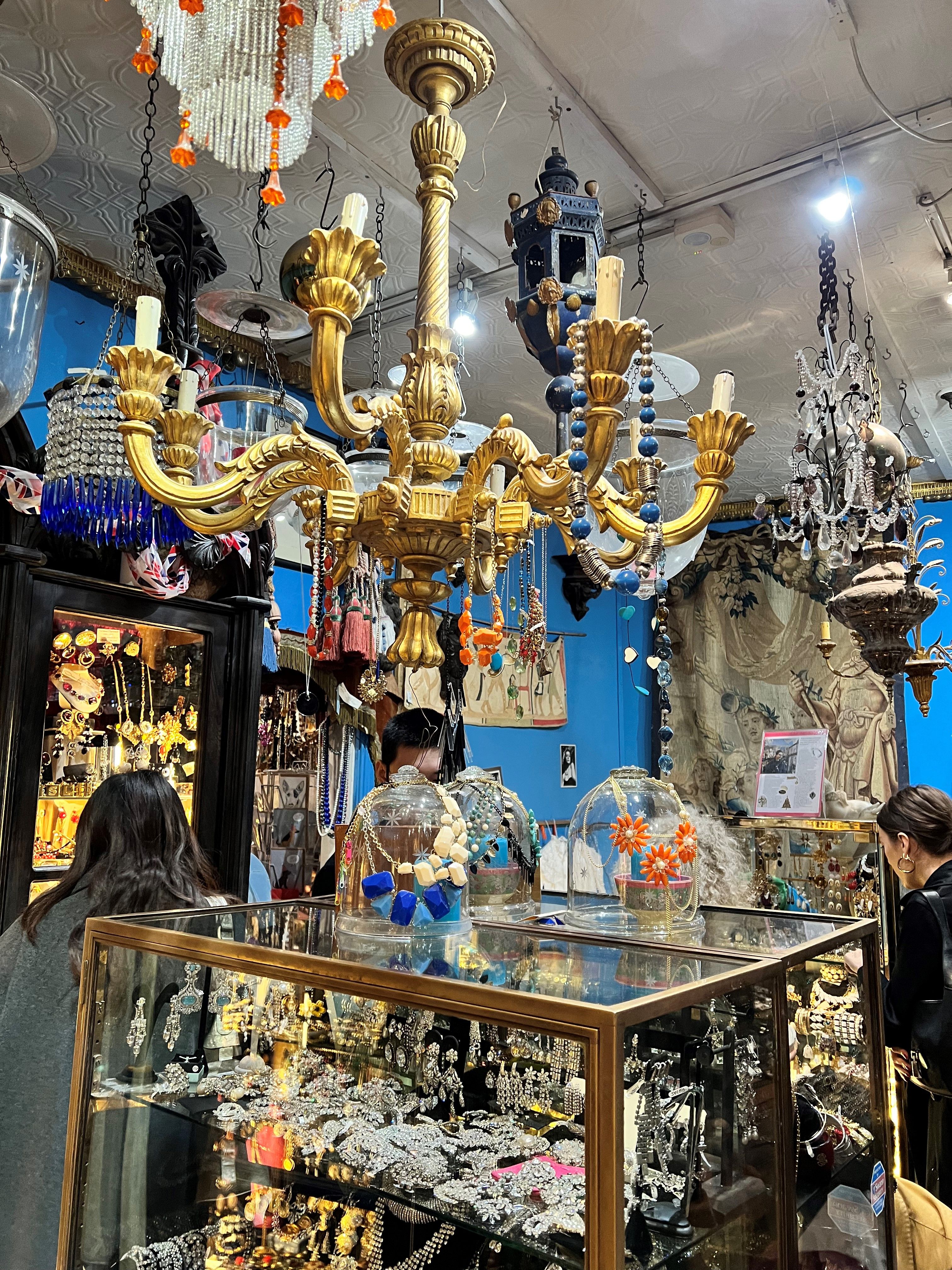 The Hirst Collection is literally dripping with vintage finds!
Upcycled Pieces At Rokit Vintage
A string of vintage stores that oozes all things "cool-girl/guy," Rokit Vintage boasts a robust collection of Y2K vintage pieces. While shopping the racks will yield unique pieces like souvenir jackets from the Olympics past and flared 90s trousers, the best things to buy from Rokit are their up-cycled pieces of cropped sweaters and uniquely reworked tops. Cue cool girl/guy from London vibes with pieces from Rokit.
Location: various locations across the city with a large store in Covent Garden