The UK cold snap is expected to worsen for many on Thursday, with more snow predicted across large parts, bringing the threat of power cuts and travel delays.
The heaviest snowfall is expected in northern and central England, where up to 40cm (15 inches) could hit an area stretching from Durham down to Stoke-on-Trent.
It comes as National Highways warned drivers to plan for "a significant second wave" of snow from Wednesday afternoon.
Motorists are being urged to plan ahead for any disruption to their journeys, following several alerts for snow and ice across the UK from the Met Office.
Check the latest forecast in your area
Overnight into Wednesday marked the coldest night of the year so far, and more sub-zero overnight temperatures are expected in all four UK nations in the coming days.
And the UK Health Security Agency (UKHSA) has placed all regions of England under a level 3 cold weather alert – lasting until midnight on Thursday.
Under a Met Office amber weather warning which comes into force at 3pm on Thursday and lasts for 21 hours until midday on Friday, there is likely to be "significant disruption" to transport, power lines and mobile phone network coverage, with heavy snow, strong easterly winds and blizzards predicted.
The alert affects Derbyshire, Durham, Cheshire East, Cumbria, Greater Manchester, Lancashire, Staffordshire, along with North, South and West Yorkshire.
The Met Office said: "Snow is expected to develop over northern England on Thursday morning, becoming persistent through the afternoon and overnight into early Friday morning before slowly easing.
"Residual impacts from snowfall are expected to persist through Friday morning. 10-20cm of snow is expected to fall quite widely, with some places seeing 30-40cm.
"Strong easterly winds are expected to accompany this snow, leading to blizzards and drifting of lying snow."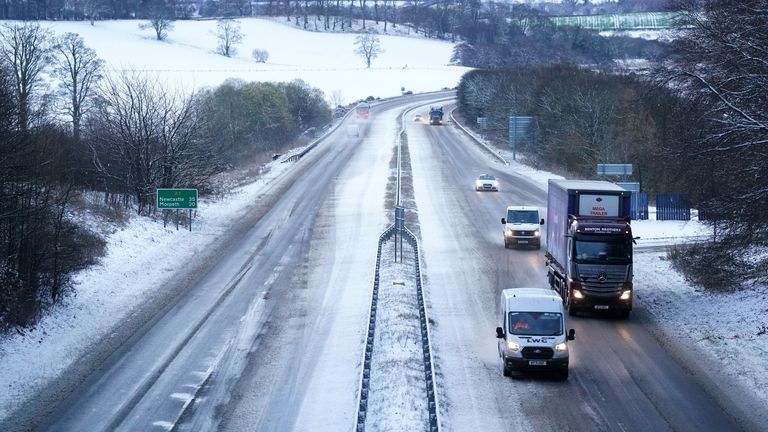 Milder yellow warnings for snow have also been issued, covering much of the nation from Wednesday to Friday.
One of them will be in effect from 7am on Thursday until 2pm on Friday and covers all of the UK north of Birmingham.
The Met Office said: "An area of low pressure will move across the UK on Thursday and Friday with snow developing across Wales and central England early on Thursday morning.
"This is expected to move slowly north during the day, becoming slow-moving across north Wales, northern England, Northern Ireland and southern Scotland during the afternoon and evening before slowly clearing southeast on Friday."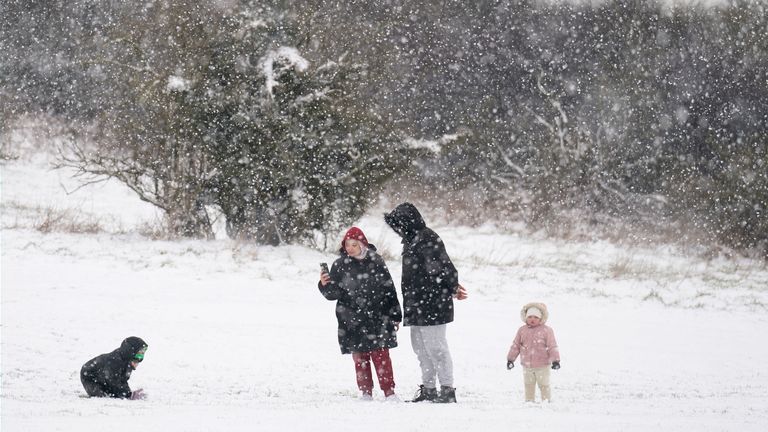 Yellow warnings for snow and ice until 7am on Thursday cover central and southern areas of England and Wales as well as northeast England and southeast Scotland.
A further yellow warning for snow and ice is in place for northern Scotland until 10am on Thursday.
Temperatures at Kinbrace in the Highlands dropped to this year's low of -15.4C overnight into Wednesday.
Met Office spokesperson Nicola Maxey said this was the coldest March temperature recorded since 2010, but that it is "not that unusual to see snow in March".
"March is a transition month from winter into spring," she said. "Statistically, you're more likely to see snow in March than in December."